Sir Wilfred Thomason Grenfell, KCMG (28 February 1865 - 9 October 1940) was a missionary-doctor who came to Labrador in 1892 with the Royal National Mission to Deep Sea Fishermen, a British organization that ministered to the needs of the North Sea fishermen. A co-worker returning from Canada the previous year spoke of the bleak conditions among the fishermen of Labrador. Grenfell immediately agreed to visit Labrador and its fishermen. He found his life's work here among the struggling, courageous, hard-working and hospitable people of the Labrador coast.
Grenfell's approach was two-fold. On the one hand he helped them, bringing medical attention, spiritual guidance and education when and where it was needed. The International Grenfell Association, the organization that he founded in 1914, became indispensable to the Labrador people. They expected those associated with "the Mission" to be capable of just about everything. As one volunteer teacher wrote in 1910, "... they confidently expect that anyone who has any connection with the Grenfell Mission will undoubtedly be able to supply their various wants."
On the other hand, Grenfell did not believe that simple charity would be of any long-term benefit to the people of the Labrador coast. Along with bringing medical aid to the area he was constantly devising ways to help the people help themselves. He was also very good at recruiting volunteers to come to the area and help him do this.
Grenfell and his associates established initiatives in the area such as cooperative societies and a large handicraft industry. He also promoted the skills necessary for the people to grow their own food, bringing agricultural specialists to develop gardening and animal husbandry.
In 1927 Grenfell was knighted in recognition of his life's work. The contribution that he made to the south coast of Labrador has left lasting legacies that include health care services, gardens that thrive in harsh climates, an active handicraft sector and generations of people who can link their families to the Mission and the people that it influenced.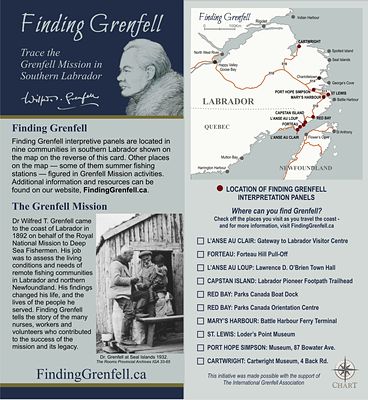 Finding Grenfell Checklist Brochure
The Finding Grenfell checklist brochure is available at the Gateway to Labrador Visitor Centre in L'Anse au Clair. Look for it along with the Welcome & Introduction interpretive panel.
You may also get the brochure here in PDF format to save or print:
On the back of the brochure, check off the Finding Grenfell interpretive panels that you find in your travels.